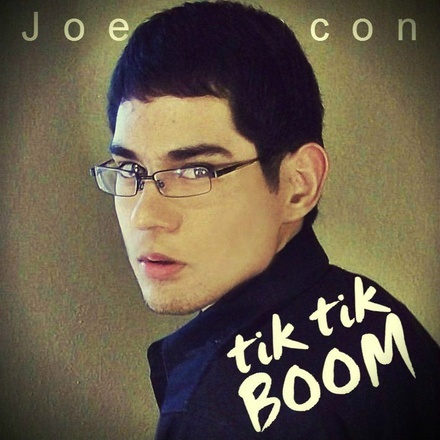 Apparently Yordi, Anthony and Luis have all agreed in terms to transfer KWE Tik Tik Boom cover rights (this includes instrumentals, and the cover itself) to newbie Oazo who will debut Tik Tik Boom as his lead single this summer. According to Anthony, Tik Tik Boom was transferred as soon as Oazo heard Joel's cover of the song, it was transferred easily because both he and Luis will be managing Oazo. He continues stating that Joel "wasn't feeling Tik Tik Boom" and that there was perhaps not going to be a video regardless. Tik Tik Boom was playing on KWE Radio Online with 50 average spins daily (for those who don't know that's surpassing the amount of spins a track is deserved but due to Joel's status in KWE I would take a guess and say it was allowed  :ooh: )  Tik Tik Boom was rising in both KWE and Panel Charts. Peaking at #3 in KWE and #11 in Panel (during it's 2 week release). Since it was transferred however, and since the transfer occurred while it was playing Joel would be penalized (since the song doesn't belong to him  
 ). Joel won't be able to release songs from his previous album which is "Joel"  
 :dying: this means NO MORE PROMO, NO MORE SINGLES, NO MORE VIDEOS!
BUT....
Let's not worry his GH album is coming up... 
I was about to post this  :Gloria wtf is going on! I blame Anthony! He's behind all of this  
 poor Joel  

_Roger_

Advanced Member




Points

: 1903


Like

: 50




Webseagull

Carniel





Points

: 1593


Like

: 0



If he's hot I'm cool with it :ooh:

Alphapakk

Infamous





Points

: 1607


Like

: 10


Age

: 28


Location

: Miami, Florida




kaylaprobs

Homme





Points

: 1732


Like

: 6


Age

: 22



What a fucking mess. I can't at all 3 of them deciding on something stupid. That song must flop with the other guy now! :bye:

IAMDEX

Advanced Member




Points

: 1771


Like

: 10


Age

: 24


Location

: Garland



Sorry for the wait but the thread was locked because kwe does not want "outside" sources to "comment" on the situation. Please do not post anything regarding this topic.
Thank You
-Admin
---
Permissions in this forum:
You
cannot
reply to topics in this forum